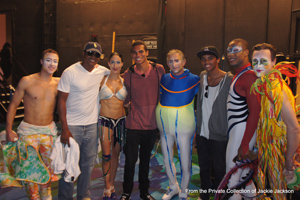 On October 2, 2011 the stage was set in Montreal for the much anticipated debut Michael Jackson THE IMMORTAL World Tour presented by Cirque du Soleil. The $60 Million production was nothing less than spectacular. From the costumes, to props, to choreography, everything was so smoothly executed, it was hard to believe this was the first time it was being performed.
The show took the audience through an emotional journey dictated by Michael's music. More than dance moves, the acrobatic performances expressed his story in ways that even defied gravity. Starting off with his childhood, you get a glimpse of the trials and tribulations of living in the spotlight at such a young age. From there you experience Michael's various phases of musical style, leading to the finale that showcased an 'army of love' standing strong to the beat of "They Don't Really Care About Us."
What was most touching about all of this is the in-depth look at just how much Michael cared for others and for this world. He was more than music, he was a message. Cirque du Soleil took that message and shared it with us in a unique way using their creative genius.
The tour is currently travelling all across North America and is expected to do an encore next year. If you haven't seen it, this is a show you don't want to miss.
Here's a look at some video footage they captured behind the scenes:
[nggallery id=1]
Photos courtesy of Cirque du Solei
For more information on tour dates and locations visit CirqueDuSolei.com.