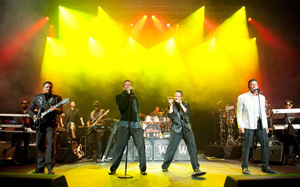 Night of the Proms is pleased to announce that Iconic Motown legends The Jacksons will perform in Antwerp and Rotterdam this coming November, sharing the unforgettable songs of The Jackson 5, The Jacksons, and a tribute to their brother Michael Jackson.
These European dates are part of a worldwide Jacksons tour that kicks of this Summer in the United States. The Jacksons tour will feature founding members Jackie, Jermaine, Marlon and Tito.
With their infectious brand of funky pop-soul and sunny upbeat material, The Jacksons emerged as one of the biggest pop phenomena of the 1970s. Creating some of the most vibrant pop/R&B of their era, The Jacksons remain an important centerpiece of pop culture today. Along with their immense catalogue of classic hits, The Jacksons have also been honored in the Grammy Hall of Fame and the Rock and Roll Hall of Fame.
Cabazon, CA

Morongo Ballroom
 
 
Friday    
August 31st 
 
 
 
 

Belgium

Antwerpen – Sportpaleis
 
 
Thursday
8 November     
20h30 
Friday
9 November     
20h30
Saturday 
10 November
20h30
Friday
16 November
20h30
Saturday
17 November
20h30
 
 
 

Netherlands

Rotterdam – Ahoy
 
 
Friday
23 November
20h
Saturday
24 November
20h
 
 
 

Japan

 
 
Tokyo International Forum
 
 
Thursday
6 December
 
Friday
7 December
 
 
 
 
Osaka Grand Cube
 
 
Sunday
9 December
 
---
2012 Summer Tour Photos
[nggallery id=25]
Article courtesy of Night at the Prom.